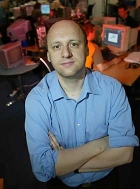 David Cage, his real name being David De Gruttola, is a French musician, writer and video game designer that was born in Mulhouse, France on June 9, 1969. Prior to founding Quantic Dream in 1997, he did music for a few games. Since then, he has designed and directed all of the games released by Quantic Dream, including Omikron: The Nomad Soul, Indigo Prophecy, and Heavy Rain, as well as the upcoming Beyond: Two Souls. David Cage is credited with pioneering the interactive drama genre of games, which emphasive emotion and storytelling.
David Cage Brainwaves
1st October, 0 replies

It's not something that happens very often but there are times when bad games, even truly awful ones,...

17th February, 1 replies

French developer David Cage will be awarded France's highest honor, the Legion of Honour medal, on March...

22nd October, 3 replies

Uh oh. Someone will burn for this one. Hackers have pulled the full code for the shower scene from the...
Share David Cage with others