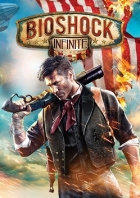 Bioshock Infinite is a first-person shooter, developed by Irrational Games and published by 2K Games for the PlayStation 3, Xbox 360, Microsoft Windows and Mac OS. It is the latest entry in the BioShock series and although it doesn't take place in Rapture, it features similar gameplay, features and concepts.
Set in 1912, players assume the role of former Pinkerton agent Booker DeWitt, sent to the flying city of Columbia on a rescue mission. His target? Elizabeth, imprisoned since childhood. During their daring escape, Booker and Elizabeth form a powerful bond -- one that lets Booker augment his own abilities with her world-altering control over the environment.
BioShock Infinite Brainwaves
30th May, 0 replies

The BioShock franchise has sold more than 25 million units worldwide, according to Take-Two CEO Strauss...

26th May, 0 replies

Former developers of BioShock, BioShock Infinite, and Dead Space have formed a new studio, The Deep End....

5th May, 0 replies

Microsoft has announced this week's Deals with Gold for Xbox Live Gold members. There are two games on...
Share BioShock Infinite with others