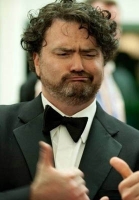 Tim Schafer is a video game designer, director and writer. Schafer spent over a decade at Lucasfilm Games, working his way up from tester to co-write classic point-and-click adventures such as The Secret of Monkey Island and Day of the Tentacle, then lead, design and write critically-acclaimed titles including Full Throttle and Grim Fandango.
In 2000, Schafer founded Double Fine Productions - where he designed games including story-based 3D platformer Psychonauts and Metal-music-based open-world title Brutal Legend. Generally, Double Fine's games have moved away from the adventure genre (which many publishers felt was dead), but have maintained the classic adventure approach to story.
Tim Schafer Brainwaves
7th May, 0 replies

Grim Fandango Remastered was released yesterday for iOS and Android platforms. The game is priced at...

8th January, 0 replies

2014 was a big year for Adventure gaming, with genre icon Tim Schafer returning with the first chapter...

24th November, 0 replies

Double Fine Studios, the developers behind Costume Quest, Stacking and Brutal Legend have revealed that...
Share Tim Schafer with others