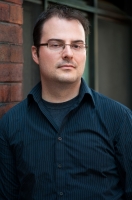 Jonathan Morin has worked at Ubisoft Montreal since 2002, with input on multiple franchises including Far Cry. He's now the Creative Director and main visionary behind the world of Watch Dogs.
Latest Games

Jonathan Morin Brainwaves
2nd April, 0 replies

Ubisoft's upcoming open world hacking game Watch Dogs is just around the corner. However, many details...

1st April, 0 replies

Fans hoping to be able to try out a small sample of Watch Dogs before the game gets released this May...

17th March, 1 replies

Ubisoft's Jonathan Morin has revealed the average time a player will take to complete the story of the...
Share Jonathan Morin with others