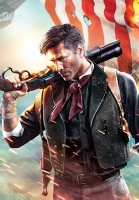 Booker DeWitt was once a Pinkerton agent, Booker is the main protagonist of BioShock Infinite. Unlike the other BioShock protagonists, DeWitt has his own identity and voice, and his backstory and personality is played out over the course of the game through his dialogue.
An alternate version of Zachary Hale Comstock, he rejected being baptised by Preacher Witting to clear his past crimes at the Battle of Wounded Knee. After the birth of his daughter, Anna DeWitt, Booker was approached by Robert Lutece and offered for his gambling debts being wiped clean in exchange for Anna. Immediately regretting his choice, Booker tried to top Lutece and failed. Anna was taken to Comstock, who renamed her Elizabeth and built Monument Island to house her.
Booker DeWitt Brainwaves
28th January, 1 replies

So a video has popped up on Youtube with a quick look at the second and last episode of the Bioshock...

8th August, 0 replies

We're all excited about BioShock Infinite's upcoming DLC set in Rapture, the underwater hellhole city...

1st April, 0 replies

Time to get involved! ENtity of the Day is going to bring up an entity that could use the collective...
Share Booker DeWitt with others