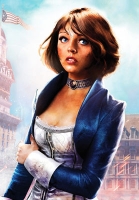 Elizabeth has been imprisoned in Columbia since she was five years old and is the non-playable protagonist of BioShock Infinite. Kidnapped by Robert Lutece when she was a child to continue Zachary Hale Comstock's bloodline, she is actually the daughter of Booker DeWitt from an alternate reality. Her rejection by Lady Comstock lead to her exile on Monument Island, which was built to house her.
Elizabeth (BioShock Infinite) Brainwaves
28th January, 1 replies

So a video has popped up on Youtube with a quick look at the second and last episode of the Bioshock...

8th August, 0 replies

We're all excited about BioShock Infinite's upcoming DLC set in Rapture, the underwater hellhole city...
Share Elizabeth (BioShock Infinite) with others
Elizabeth (BioShock Infinite)