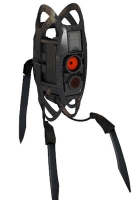 The Defective Turret is a character featured in Portal 2.
The Defective Turret has a different and unique look compared to the regular ones found throughout the game. It is very boisterous and talky, as well as completely self-aware, which is completely opposite of the normal turrets. It is first encountered in Chapter 5, where Chell has to replace it with a normal turret on a production line. This makes it so that all turret produced afterwards follow the model of the Defective Turret.
Latest Games
Developed by Valve Corporation for WIN, PS3, X360

Portal 2 is a first-person puzzle-platform video game developed and published by

Valve Corporation

. It is the sequel to

Portal

and was released on April 18, 2011 for Microsoft Windows, Mac OS X,

PlayStation 3

, and Xbox 360. The retail versions of the game are distributed by Electronic Arts, while digital distribution of the Windows and OS X versions is handled by Valve's content delivery service Steam. Portal 2 was announced on March 5, 2010, following a week-long alternate reality game based on new patches to the original game.
Defective Turret Brainwaves
Share Defective Turret with others