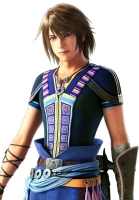 Noel Kreiss is one of the main protagonists in Final Fantasy XIII-2 and a supporting character in Lightning Returns: Final Fantasy XIII. The second to last child born in the Farseer tribe, a nomadic tribe trying to survive in the dying world of Gran Pulse 200 years after Cocoon's crystal pillar shattered, he is destined to become the seeress's Guardian.
In Final Fantasy XIII-2, Noel travels into the past hoping to change the fated date that the crystal pillar shattered. After meeting Lightning, he is sent to find and bring Serah Farron, Lightning's younger sister, back to Valhalla. In Lightning Returns: Final Fantasy XIII, Noel, corrupted with grief and the Chaos' infulence, acts as a vigilante justice fighter and punishes those who do wrong in Luxerion.
Latest Games
Developed by Square Enix for WIN, PS3, X360

Lightning Returns: Final Fantasy XIII is a role-playing game developed and published by

Square Enix

for the

PlayStation 3

and

Xbox 360

. It will be released on November 21, 2013 in Japan, on February 11, 2014 for North America and February 14, 2014 in Europe. Lightning Returns is set to conclude the Final Fantasy XIII Lightning Saga.
Share Noel Kreiss with others