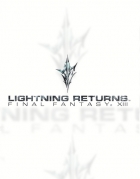 Lightning Returns: Final Fantasy XIII is an upcoming Action RPG game developed by Square Enix for the PlayStation 3 and Xbox 360. It will be released on November 21, 2013 in Japan, on February 11, 2014 for North America and February 14, 2014 in Europe.
Lightning Returns is set to conclude the Final Fantasy XIII Lightning Saga. The game takes place in the new world of 'Novus Partus', contains new characters and will also feature a new version of the 'ATB' battle system. Lightning has been confirmed as the only playable character but Hope Estheim will be assisting throughout the journey via wireless communications. Unlike the previous two games of the saga; Final Fantasy XIII and Final Fantasy XIII-2, Lightning Returns is described as a world driven game, in which the players' choices and actions will affect the world around them.
Lightning Returns: Final Fantasy XIII Brainwaves
28th October, 0 replies

File this one under the "interesting thought" category. Official Xbox Magazine asked Lightning Returns:...

14th October, 0 replies

Think back to the beginning of the current generation. At the time, Final Fantasy XIII was one of the...

7th October, 0 replies

For a game that's so obsessed with dressing up women, it seems weird that Vanille's new getup in Lightning...
Share Lightning Returns: Final Fantasy XIII with others
Lightning Returns: Final Fantasy XIII