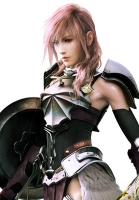 Lightning is the main protagonist of Final Fantasy XIII and Lightning Returns: Final Fantasy XIII, as well as a major character in Final Fantasy XIII-2. The relationship between Lightning and her younger sister, Serah Farron, drives the story behind each game.
In Final Fantasy XIII, Lightning strives to Serah, who was cursed to become a l'Cie, only to be turned one herself. In Final Fantasy XIII-2, Lightning serves knight and protector to the goddess Etro from Caius Ballad, a mysterious man who wants to cause the collapse of time itself. In Lightning Returns: Final Fantasy XIII, the world is said to end in thirteen days, and it is up to Lightning to save it.
Lightning Brainwaves
17th December, 1 replies

Lightning Returns has been out for a few weeks in Japan and, today, DLC is being released for the game. According...

14th October, 2 replies

Think back to the beginning of the current generation. At the time, Final Fantasy XIII was one of the...

7th October, 1 replies

For a game that's so obsessed with dressing up women, it seems weird that Vanille's new getup in Lightning...
Share Lightning with others