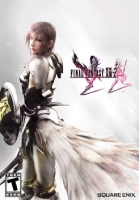 Final Fantasy XIII-2 is a Japanese role-playing game developed and published by Square Enix for the PlayStation 3, Xbox 360, and Windows PC. It is a direct sequel to Final Fantasy XIII, taking place three years after "The Fall", and follows Serah Farron, the younger sister of FFXIII-2 protagonist Lightning, and Noel Kreiss, a mysterious boy from a desolate future.
On the day that Vanille and Fang saved Gran Pulse from "The Fall", Lightning went missing. Everyone says that she never made it out of the crystal pillar, but Serah remembers her smile on that day. Meanwhile, Lightning has been tasked with guarding the goddess Etro form a mysterious man named Caius Ballad, who seems to want the collapse of time itself.
Final Fantasy XIII-2 Brainwaves
14th October, 2 replies

Think back to the beginning of the current generation. At the time, Final Fantasy XIII was one of the...

19th January, 9 replies

Saw this on Kotaku yesterday - I don't fully agree with his stance but he has some good points generally: Civilization...
Share Final Fantasy XIII-2 with others