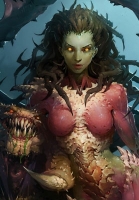 Sarah Kerrigan is a key character in the Starcraft franchise as one of the entities in continuous evolution. Starting as a Terran Ghost working for Arcturus Mengsk, she gets betrayed and left to die in front of the Zerg swarm. She was taken by the Overmind, the leader of the Zerg and transformed into one of them because of her psionic powers. Later, she took control of the zerg and became the Queen of Blades.
As she was trying to get revenge and kill Mengsk for what he's done, she got captured by Jim Raynor and restored to humanity. After her beloved Jim got supposedly killed, she became once again the Queen of Blades to kill Arcturus for his sins and called herself The Swarm.
Sarah Kerrigan Brainwaves
25th November, 1 replies

Blizzard's upcoming Multiplayer Online Battle Arena title, Heroes of the Storm, features characters drawn...
Share Sarah Kerrigan with others