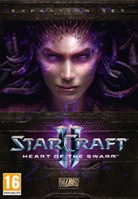 Starcraft II: Heart of the Swarm is the second real-time strategy (RTS) game in the trilogy StarCraft II, developed by Blizzard Entertainment for Microsoft Windows and Mac OS. The expansion to StarCraft II: Wings of Liberty, it focuses on the zerg campaign, featuring Sarah Kerrigan.
Sarah Kerrigan, the former zerg Queen of Blades, has been restored to humanity by an ancient Xel'Naga artifact, but she still remains a threat to all she encounters. The memory of her time as the mutant leader of the swarm lingers — as does her yearning for revenge.
StarCraft II: Heart of the Swarm Brainwaves
7th November, 0 replies

StarCraft 2: Legacy of the Void has been officially announced. In an opening BlizzCon ceremony filled...

5th December, 1 replies

25th November, 1 replies

Blizzard's upcoming Multiplayer Online Battle Arena title, Heroes of the Storm, features characters drawn...
Share StarCraft II: Heart of the Swarm with others
StarCraft II: Heart of the Swarm