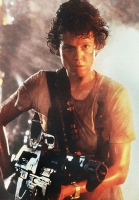 Ellen Louise Ripley was the third in command aboard the commercial towing vehicle USCSS Nostromo in the first Alien film and the main protagonist of the film franchise. When the Nostromo encountered the alien Xenomorph on LV-426, Ripley's crew was killed and she was lost in space for 57 years. Ripley's encounter with the Xenomorphs continued to plague her for the rest of her life, encountering them again on LV-426 and then on Fiorina "Fury" 161.
Although a major character in the Alien franchise, Ripley does not appear in any of the Alien video games, though she is mentioned in many of the games, such as Aliens: Colonial Marines and Alien: Isolation, she is also often referenced.
Ellen Ripley Brainwaves
9th July, 0 replies

Sega really wants us to forget about Alien: Colonial Marines as Alien: Isolation approaches its release....

31st March, 0 replies

Alien: Isolation's release date has been confirmed at EGX Rezzed. The game, which is being developed...
Share Ellen Ripley with others