Donkey Kong Country is a 2D side-scrolling platformer. Players take control of Donkey Kong and Diddy Kong in an effort to retrieve Donkey's stolen Banana Hoard. Both characters can be on the screen at once, and although players can only control one at a time, they can switch between the two.
General Gameplay
Donkey Kong and Diddy Kong are the main characters in the game. They can run, jump and perform a variety of offensive moves including jumping on some enemies to defeat them. Donkey can perform an offensive roll to take out enemies as well as a hand-slap move that pounds the ground, while Diddy can cartwheel into enemies and is more agile than his ape buddy.
The monkeys can also pick up items such as barrels and hurl them at enemies. When using one monkey, players can locate the other by finding them in a DK barrel. Players can then switch between the two during gameplay.
Structure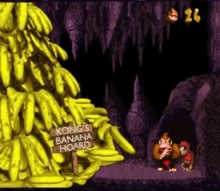 Players must guide their monkey to the end of each level. There are several levels in each world, which is concluded with a boss fight. Players traverse the world via a simple map, where they simply select each level.
There are hidden bonus levels where players can earn extra lives. All of the bonus levels must be found in order to achieve a 101% complete status. Bonus levels can be found behind weak sections of wall by breaking it with a thrown barrel or keg or broken with the Animal Buddy, Rambi. Bonus levels can also be hidden just off-screen in a barrel.
Players can also push tires which are used to bounce on to reach high areas, items, or hidden bonus areas. There are also mine cart levels in which the monkeys must avoid hazards while jumping and remaining on the track.
Collectibles
Collecting 100 bananas rewards the player with an extra life, as does collecting all of the KONG letters in a level or finding a life balloon. There are no other collectibles in the game.
Animal Friends
As players traverse through stages, they will sometimes find a box with an animal silhouette on it. Breaking these open will reveal one of Donkey's animal buddies. There are five of them in the game and each one has a special ability that makes it easy to maneuver, as well as finding secrets.
Rambi - A rhinoceros that can charge into enemies to defeat them, as well as break open walls to reveal secret areas.
Enguarde - Only found underwater and makes traversal much easier. Can charge up like Rambi to reveal secret areas in walls.
Winky - Can jump very high, as well as on enemies the Kongs can't, like Zingers.
Squawks - Cannot be ridden and only provides light in one level. Cannot be harmed by enemies.
Expresso - Can run very fast, as well as glide in the air. Small enemies can go under his legs without harming him.
Kong Friends
Members of the Kong family help Donkey and Diddy throughout the game with a variety of services.
Cranky Kong - gives advice to the player to aid in levels.
Funky Kong - allows the player to quickly travel from world to world via a barrel jet.
Candy Kong - she saves the player's progress in the game.