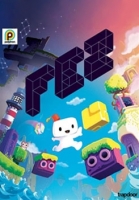 Fez is a puzzle platform game, developed by Polytron for Xbox 360 via Xbox Live and Microsoft Windows through Steam. The game is noteable for its gameplay, which features a 2D world that Gomez can walk, jump, climb and manipulate objects in, but allows the player to shift perspectives at any time, rotating the world 90 degrees relative to the screen, revealing new paths.
Gomez is a two-dimensional creature who lives in a flat, 2D world. One day, Gomez encounters a strange and mysterious artifact called the Hexahedron, which gives him a magical fez hat that allows him to perceive a third dimension. Just as Gomez begins to explore his new ability, the Hexahedron suddenly fractures and explodes, causing the world around him to glitch up and freeze.
Fez Brainwaves
30th July, 0 replies

With the month of July coming to an end, it was only a matter of time until we learned about the new...

12th December, 1 replies

It's that time of the year again; decorations are being brought out of their boxes, trees have become...

27th July, 0 replies

You really couldn't make this stuff up. I'll try and summarise the key timeline of events as best I can....