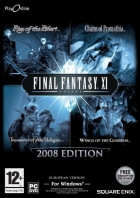 Final Fantasy XI, also known as Final Fantasy XI Online, is an MMORPG developed and published by Square Enix as part of the Final Fantasy series. It was released in Japan on May 16, 2002 for Sony's PlayStation 2, and for Microsoft's Windows-based personal computers in November of that year.
The PC version was later released in North America on October 28, 2003, and the PlayStation 2 version on March 23, 2004. In Europe, only the Windows version was released, on September 17, 2004. An Xbox 360 version was released worldwide in April 2006 for all regions, as the system's first MMORPG and first cross-platform MMORPG. All versions of the game require a monthly subscription to play, however the Xbox 360 version does not require an Xbox Live Gold account.
Final Fantasy XI Brainwaves
19th January, 9 replies

Saw this on Kotaku yesterday - I don't fully agree with his stance but he has some good points generally: Civilization...
Share Final Fantasy XI with others