Major story spoilers ahead.
While traveling to the mining facility, the Junker stops functioning and they have to go to the facility on foot. They go through the abandoned facility and reach the Imulsion mine tunnels. They head towards the location where the Resonator would have the best effect. While moving towards their location the team comes across a Corpser, which Marcus ends up defeating in order to move forward.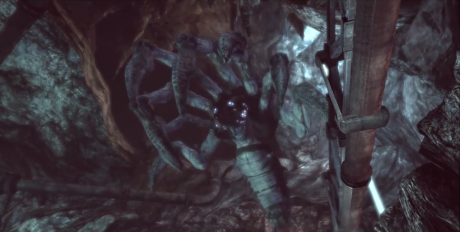 A Corpser
After the defeat of the Corpser, Baird sets off the Resonator and the squad escapes back to the surface. On surface the team contact the HQ and realize that the data collected from the Resonator was too little for the Ligthmass Bomb. However, Baird found a device which already contained an almost complete map of the Locust tunnels. The device also contained data about Marcus's father, Adam Fenix and his house, the East Barricade Academy.