Metro: Last Light is a post-apocalyptic action-oriented first-person shooter originally entitled Metro 2034 and a direct sequel to Metro 2033.
Stealth System
While the game is designated as a first-person shooter, the developers have added a robust stealth system that allows a player to choose which path they would like to go.
Human enemies are abundant in the Metro, but luckily they are limited to tracking Artyom via sight and sound. With a watch, which indicates whether the player is in light by display, the player can focus on staying in pools of darkness to sneak up and silenty kill their targets.
In order to assist the player in this form of attack, all lights can be either shot out or turned off by finding a switch box.
Venice
Venice is a partly submerged section of the Metro that acts as a town and rest area for the player. It also acts as an information center for the player, where they can hear exposition that will advance the game's story.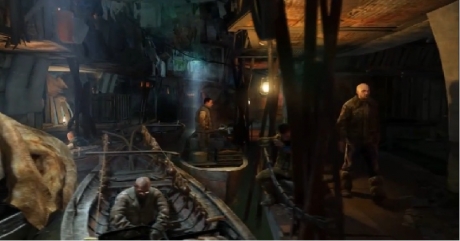 The Bar
Artyom has choose to buy a drink and possibly learn some information.
Weapon Shop
Players can visit the Weapon Shop to buy ammo or secondary weapons.
Known Examples of Ammo & Secondary Weapons

Ammo Types
Secondary Weapons
Buckshot
Throwing Knife
Assault Rifle Ammo
Claymore
Steel Balls
Hand Grenade
Revolver Rounds
Incendiary Grenade
Sniper Rifle Ammo
Weapon Customization & Trade-In
In Metro 2033, weapons were pre-made and found throughout the game with various attachments. Now, the player can customize their weapons however they please and are no longer limited by weapon class, allowing them to carry more than one type of pistol, rifle, etc.
Kalash

Revolver

Rifle

Optics
Barrel
Misc
Optics
Misc
Optics
Reflex Sight
Silencer
Laser Sight
Reflex Sight
Laser Sight
Reflex Sight
2x Sight
2x Sight
4x Sight
IR Sight
IR Sight
IR Sight