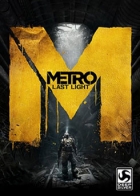 Metro: Last Light is an upcoming post-apocalyptic action-oriented first-person shooter with survival horror elements. Announced on February 2, 2012, it is being developed by 4A Games and published by THQ for Microsoft Windows, PlayStation 3 and Xbox 360.
Originally entitled Metro 2034, the game is a direct sequel to Metro 2033, but is in no way related to the book of the same name.
Metro: Last Light Brainwaves
19 days ago, 0 replies

Images for Metro Redux, formally Metro 2033, and Metro: Last Light on next-gen consoles have been circling...

30th January, 0 replies

At the end of every month I wait patiently for the good men and women of SoA to tell me what games will...

30th January, 0 replies

So here is what you'll be getting for free with your subscription to Playstation Plus for the month of...
Share Metro: Last Light with others