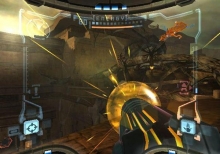 The Charge Beam is a more potent version of Samus' regular Power Beam. It allows Samus to fill her arm cannon with energy and release it later, resulting in a shot that is much more destructive than a regular shot from the Power Beam. It is roughly as powerful as a Missile shot, though it does not render Samus' Missile Launcher completely useless, as there are still some enemies that only missiles can damage. A fully charged shot is noticeably slower than a regular shot from the Power Beam, however, which makes it easy for fast enemies to dodge a fully charged shot. (A shot that is only charged halfway is faster, but also less powerful)
The Charge Beam also has an unique "tractor beam"-like effect: as long as Samus charges her Beam, the Charge Beam attracts any visible pick-ups in the room, such as Ammunition and Energy Capsules, to her. This is useful for collecting pick-ups from hard-to-reach places. In addition, the Charge Beam also functions with Charge Combos, special weapons that combine the Charge Beam with the Missile Launcher, to devastating effect.
The Charge Beam is found in the Watery Hall in Chozo Ruins.