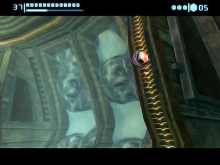 The Spider Ball is a Morph Ball upgrade featured throughout the Prime series, as well as Metroid II: Return of Samus. In Metroid Prime, it allows the Morph Ball to attach to and traverse magnetic rails placed throughout the game. According to Space Pirate data, the magnetic rails are used by the Space Pirates for transporting small cargo.
If a Bomb is deployed while attached to the track, the Morph Ball will make a small vertical hop, which can be used to reach an otherwise unreachable rail. In this game, the Spider Ball is often used just to gain access to hidden Missile Expansions or Energy Tanks.
The Spider Ball is acquired by defeating Thardus.