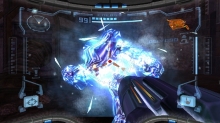 The Ice Beam is the second beam weapon Samus acquires on Tallon IV. Despite its slow rate of fire, the Ice Beam is particularly useful against quick-moving opponents because of its ability to freeze various enemies in place. Enemies as large or larger than Samus often require a fully charged shot from the beam to freeze. The most effective way to utilize the Ice Beam is to use it to freeze the enemy in place, and then bombard the immobile opponent with Missiles or a single Super Missile. The Ice Beam is also mandatory for opening White Doors, which cannot be opened by any other beam. The Ice Beam is found in the Antechamber in Chozo Ruins.
Ice Spreader
The Ice Beam's Charge Combo is called the Ice Spreader. It takes up 5 Missiles. Unlike the Charge Combos of the Wave Beam and the Plasma Beam, which discharge sustained streams of energy, the Ice Spreader is more reminiscent of the Super Missile. It creates a single powerful blast of ice that explodes and creates a layer of ice over any enemies in the immediate surrounding area when it comes to contact with a target. It is convenient for ridding the area of a large number of enemies, and even some of the more durable Metroids encountered near the end of the game that are impervious to many weapons are susceptible to the Ice Spreader.
The Ice Spreader is acquired in the Shore Tunnel, in the depths of the Magmoor Caverns. You will need the Power Bomb to reach it.