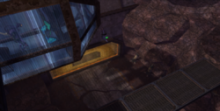 The Phazon Mines are the heart of all Space Pirate activity on Tallon IV. As the name suggests, the Mines were constructed by the Space Pirates to harvest Phazon from the depths of the planet. With Space Pirate warriors, defense turrets, perverse biological experiments and even Metroids lurking behind every corner, it is perhaps the most dangerous area that Samus must explore in the game.
The Mines consist of three levels. The first and uppermost level contains large mining machines and many defensive turrets. The second level is where most of the Space Pirates' various experiments, such as the Elite Pirates and the Phazon Elite, are held. The actual mining of Phazon takes place in the lowest level. It is damp and dark and brimming with the poisonous substance the Space Pirates hold so dear. There are also hundreds of Metroids quarantined within the depths of the third level, as well as more of the Pirates' monstrous experiments. The Phazon Mines are not far from the Impact Crater, as the crater can be seen directly through numerous elevator windows.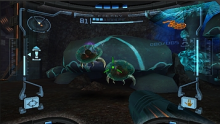 The Phazon Mines are mostly subterranean, but the few areas with a clear view of the sky show that the sky is, in fact, largely pink around the Phazon Mines, indicating that the Space Pirates have heavily polluted the area. In the deepest portions of the third level, the only sources of light are Phazon-mutated mushrooms. The area is connected with Tallon Overworld and the Magmoor Caverns.