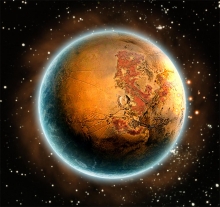 Tallon IV, the primary setting of Metroid Prime, is a planet in orbit around the star FS-176, the same star that the Space Pirate base Zebes used to orbit. It was colonized by a group of Chozo from Elysia who wished to regain their spirituality. There, they established a civilization based on nothing but the planet's own resources, and thrived for quite some time.
However, 50 years prior to the events of Metroid Prime, a meteor-like object struck the planet, and with it came a highly radioactive and poisonous substance that would later be known as "Phazon". The Phazon swiftly spread throughout Tallon IV, corrupting the planet that was formerly a veritable biological paradise. The Chozo built a great temple to stop the Phazon from spreading, but the damage had already been done. The Chozo civilization of Tallon IV withered and died, leaving behind only ruins, maddened ghosts and artifacts that the prophesied "Defender" could use to open the way to the Impact Crater and destroy the Phazon threat once and for all.
After their defeat on Zebes at the hands of the bounty hunter Samus Aran, the Space Pirate refugees escaped to Tallon IV, and quickly began studying Phazon. They constructed multiple establishments across Tallon IV to harvest Phazon, furthering the planet's erosion. However, it didn't take long for Samus Aran to arrive and disrupt their operations, and end the Phazon corruption of Tallon IV once and for all.