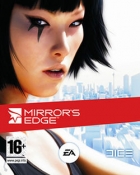 Mirror's Edge is a first person action-adventure platforming game, developed by EA Digital Illusions CE (DICE) and published by Electronic Arts (EA). The game was announced on 10 July, 2010, and released for the PlayStation 3 and Xbox 360 in November 2008, and for the PC in January 2009.
Mirror's Edge is best known for its distinctive and bright art direction and focus on first person platforming, which is heavily inspired by Parkour; a discipline which focuses on efficient movement around obstacles by vaulting, rolling, sliding, running, climbing, and jumping.
Mirror's Edge Brainwaves
13th March, 0 replies

Free-running platform/action-adventure game Mirror's Edge gained a small but devout fanbase when it released...

7th January, 0 replies

Another year gone, and many incredible games released, but we're already looking forward to what comes...

14th August, 2 replies

For all the bad things gamers say about EA, it seems there are some goodly souls working there, for the...
Share Mirror's Edge with others