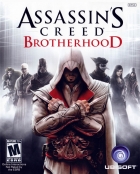 Assassin's Creed: Brotherhood is an action adventure game developed by Ubisoft Montreal and published by Ubisoft. It was initially announced in June 2010 as the confirmation of an earlier leak, and was released in North America on 16th November 2010 on PS3 and Xbox 360, and March 22nd 2011 on PC.
It is the second game in the Ezio trilogy, and the third Assassin's Creed game, and tells the story of how Ezio rebuilt Rome by expelling Borgia influence.
Assassin's Creed: Brotherhood Brainwaves
17th February, 5 replies

Download Hack Sniper 3D Assassin 1.3 without Jailbreak with ifunbox http://ios-games.co/shop/sniper-3d-assassin-shoot-kill/ working...
Share Assassin's Creed: Brotherhood with others
Assassin's Creed: Brotherhood