When you gain control, move towards the boat a little further ahead. Move past the boat and drop down. You'll need to move up towards the crashed chopper site. Watch out for flanking enemies on the right as you move up. Remember that the Desert Eagle is a very powerful and accurate weapon. Chest shots will kill most enemies. There are two important things to think of here. At some point, Adams will go down and you'll have to save him before he bleeds out. Also, at some point, you will need to find more ammo because you've only got 20 shots. There's plenty of ammo around, just make sure you grab some.

Once you've saved Adams, you'll have to move past the chopper to the plane. After you kill a wave of enemies, a heavy will appear and more enemies will come in with him. Stay near the chopper and there will be two pieces of cover that curve. Behind these two pieces of cover will be crates of grenades. Grab them and use them on the heavy.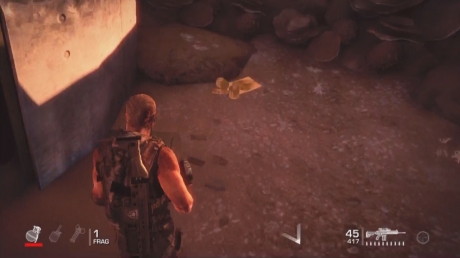 Go up to the plane and enter. Go through, come out, and then turn left. You should find another Radioman Tape here. Grab it and turn around. Go over the hill and you'll come to a large yacht in the middle of a sand sea. Take cover behind the first thing you can. It should have some sticky grenades in front of it. Grab those and then start working on the crowd. There's enough cover to keep yourself safe here if you move around a little. Watch your left flank in particular because it's possible for them to get right up on you. Before you move anywhere, make sure the right flank is clear.

Your first order of duty, however, should be the sniper. Put an attack command on him so that you always know where he is and then wait for him to pop up so you can kill him. With him down, it'll be a lot easier to kill enemies. Watch any forward soldiers and kill them, then focus your sights way down on the left side. Enemies will start coming in heavy on that side.

Work your way up the left side but keep your eyes on the hatch of the boat on this side. Two enemies will come out as you approach and they should have shotguns. Take them out quickly and watch for a third one inside the boat. There's also a fourth enemy above you on the deck of the boat. This enemy is different than the sniper and should still be alive. He may try to shoot down at you. Get into the boat, kill the third enemy and then get up to the deck to kill the fourth.

Drop off the deck and move forward. After you pass a little bit of cover, you'll be attacked again. The enemies will mostly come from the path ahead and to the left or from the hole in the boat to the right. Kill the two to the right first and then you can focus on the enemies running around in front of you. Kill them all and then head up and over the dune to the left.

After you go over the dune, take cover. On the yacht in front of you will be another sniper and enemies will attack from the front right. Set Adams to take out the Sniper or use a grenade to get him. Once he's dead, deal with the stragglers on the right. Kill them and move in that direction. Take cover just before the sand heads downward.

There's only a few people down there. One is actually about your level on the back of a boat in front of you. Kill him and then watch for the three or so enemies below. They'll likely be in the open (and you've got elevation) so just blast them and head down. Lugo will find somewhere to hide. Move forward and in between some of the boats.

After a chat with Adams, you'll be outside with little cover. Dash for the yacht in the distance and take cover. It's better to be on the upper deck than the lower but it might not be possible. Definitely watch for an Edge Master. Once you find cover, take out the enemies from the APC.

If you're on top of the boat, don't take the ammo yet. After you clear this first wave of enemies, a sandstorm will hit and you might want to save the ammo for later (unless you're low). When the sand storm hits, be on the top deck and post up next to the stairs. Just shoot the enemies as they appear and you shouldn't have a problem. The storm will eventually clear and you can clean up anybody who didn't just run straight up the stairs at you. Grab any ammo and grenades you need and then cross the rest of the way to the other side.

After you chase down Lugo, you will have to get past the civilians. If you don't want to kill them, you can just melee them to get them to disperse. Once they are dispersed, move through the village and get to the far side where Adams will point out your exit. Just before you go through the gate to get to the exit, you should see a desk lit with candles on the left. Grab the piece of intel on it. If you shoot the civilians, you will get the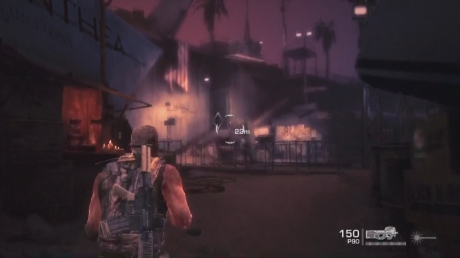 *Achievement: A Line, Crossed
but if you just melee them, you will get
*Achievement: A Line, Held