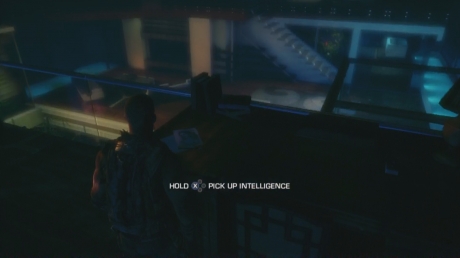 When you gain control, walk into the house and move through it. You'll go up an elevator to find Konrad. When you get to his apartment, you'll pass some glass stairs on the right. Go up these stairs to find Konrad's Letter. Go down the stairs and then up the other set of stairs just ahead and left. At the top, walk towards the giant painting. This is the end of the game and requires one last choice. Check below for your options.


Spoiler:
You will be presented with the choice of shooting Konrad, Shooting yourself, or doing nothing. The last two options return the same outcome and are less than optimal. The first option is the "best" for your character. If you choose the first option, you'll get an epilogue where you are presented with another choice. In this case, you can choose either option. However, listening to the man may be better for your health. Each option will give you an achievement so you'll have to do both eventually.
You will get:
*Achievement: A Bridge Too Far
*Achievement: Intel Operative
You can also get all three of these provided your difficulty was high enough.
*Achievement: Boot
*Achievement: We Were Soldiers
*Achievement: The Devil's Disciple
Getting this achievement requires you to beat the game on Suicide Mission first to unlock FUBAR difficulty and then to complete it on that difficulty
*Achievement: MFWIC
You also get either:
*Achievement: A Farewell to Arms
or
*Achievement: Too Late The Hero
If you get Too Late the Hero then you will have a chance to get
*Achievement: The Road Back
or
*Achievement: The Road to Glory
depending on your next choice.