Alright, so now that you have control, there's an achievement you can get here. It might take a few tries but you can get it pretty easily on the first try if you have patience. Just to the right side of the car will be a long wall. Along the right side of the wall is a case of grenades and a shotgun. This achievement is for getting four kills with a shotgun in 10 seconds. Grab the shotgun and then return to the car for cover. At this point, your enemies will have seen you.

Sit behind the car and wait until the enemies have made it at least as close as the next car over. From there it can be one shot kill or two tops. Wait for a suitably sized group to form. You need at least four for this so you want at least three nearby and one approaching. Once they are in a comfortable position for you, try and kill four quickly. If not, you can just reload this checkpoint or you can come back later since it's the beginning of the chapter.

*Achievement: Close Combat Carnage

Your Desert Eagle is a great gun and doesn't require a headshot to kill with a single bullet. The shotgun will be useful either way because it means you don't have to find a rifle immediately. In fact, it might be easier to wait until someone is really close, kill them with the shotgun and then take their rifle so you don't have to venture out for one. Basically, just sit behind this car, make sure that you watch both your left and right flank (but particularly the left), and keep shooting. Eventually Lugo and Adams will find you and provide support from above. Clean up any stragglers.

When the coast is clear, Lugo and Adams will come down into the pit with you. Collect some ammo and then head for the drawbridge in the distance. Take cover near it and the bridge will come down allowing you to cross (once it's safe). Kill the enemies on the other side and cross. When you get to the other side, grab the sticky grenades from the case. Move up and take cover behind the big rig truck. You'll find a long alley with enemies in it. At the end of it will be a raise turret. If you move up along this alley, be sure to watch to your right because there is a separate path about hallway up from which you can be flanked. Move up when it's safe to flank the gunner. Kill him and your squad will move up with you.

Adams will work on the door, you need to hop on the turret to protect him. Lugo will help but you can also direct his attacks. To start out with, enemies will start coming out of the shipping container and up along its side. Clear the enemies as they approach and make sure to keep an eye on the ruined crane above. You'll get a couple of people running across the top there including RPGs. When everything is dead, Adams will finally open that door.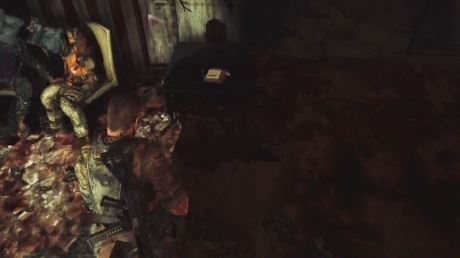 Go through the doors and follow them to a giant hole in the ground. You'll find something rather nasty down here. Just make your way along this hallway. Eventually, you'll come to a row of sitting bodies with bags over their heads. Sitting on a table just before the sitting bodies will be the Interrogators Confession. Go past the bodies and up the stairs at the end of the hall. You'll come to a very dark round room. In the middle will be some stairs. Go up them and towards the light.

*Achievement:The Horror

When you regain control, stay in cover. Slide to the right and take out the enemies slightly to the right and across the gap. Kill as many as you can and then slide left. Start making your way around the balcony to the left. There will be a grenade case behind a counter a little ways forward. Don't bother trying to take cover behind the red chairs because you can't. Work your way around and you'll eventually reach a checkpoint. Just after the checkpoint, you will have to enter a side hall but you'll be charged by several men. Let them come to you and kill them. Now enter that hall.

At the other end of the hall will be a doorway that leads to a large open museum room. There may be a few enemies still coming out of it so wait for them to come out and kill them. Move into this room. There will be some enemies in here but they shouldn't be too tough. As the room turns left, you'll see a turret in the distance behind a nearly intact dinosaur. Use a grenade to take him out from a distance. Be careful when moving up because there may be quite a few enemies just around the corner to the right. These men may also be packing grenades which could force you into the open if you're too far forward. Kill them from the maximum distance and then move into the next hall.

This next part is a little tough. You'll have to run across the hallway while being shot at by a chopper. I can't say I'm entirely sure why I survived this but I've narrowed it down to one of two things. Either you need to tweak your path slightly left and right as you run or you need to turn slightly to the left as you make it to the end of the hallway before turning right to get further into the building. Vaulting over objects will not help and running as straight as possible will also likely get you killed. I'm fairly certain that weaving is the best way to get across though.