Move along this underground tunnel and past the bedding on the right. You'll take a left at the end and enter another tunnel. You'll see some tents on the left and a painting of a man on the wall in the distance. In this second hallway, there will be a little alcove on the right side. Sitting by some double doors will be a small doll on the floor.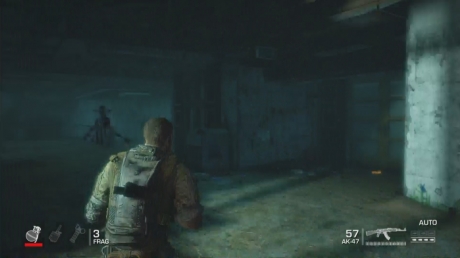 The hallways at this point are pretty uninteresting (gameplay wise). Just continue along until you come to a set of double doors thrown wide open. You'll see a couple of people talking through the doors and one is in far worse shape than the other. When you gain control and are staring the survivor in the face, it's important to note that you cannot "kneecap" him to disable him. You either shoot him or you don't. The choice is up to you and it's one of a few that you'll have to make over the course of the game. It won't drastically change the way the game plays but it will change dialog and has some effect on the ending.

*Achievement: The Lost Battalion

Rappel down the line in front of you and at the bottom, you'll find a whole bunch of pictures on a wall. Near that wall will be a desk with some pictures and Castavin's Diary.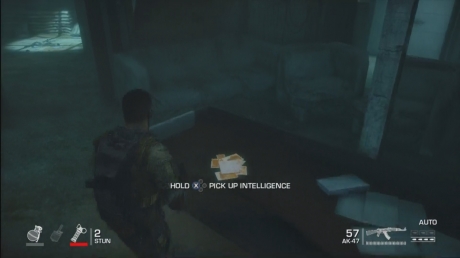 You'll have to walk around some bookcases to get to a door. Adams will blow it open for you. At this point, you'll be fighting some soldiers. This fight is a little difficult because your only safe point is a spot where you can't attack enemies. Kill the two guys from this shop. Reload and get ready to be brave. You'll likely die a couple of times here.

Look out of the shop window to the right and you should see a railing with a man slumped over in it. He's alive but doesn't get up. Remember this point.

Don't do it yet but you'll have to vault over out of the shop and you'll be shot at from the right. You want to vault over, shoot at the couple of enemies at the end and then take cover where that man is slumped over. From here, try to kill enemies to the left. These enemies will throw grenades at you so when you are forced to move, try to continue moving to the right and over behind a wooden stall. When it's safe, you'll see another small bridge leading across the gap but it goes at an angle. Move to that bridge and work your way over to the left side. Kill any remaining enemies and move forward through the back of the market.

Move through this small room and Adams will blast open another door. You'll come to a huge room where citizens are being corralled. From your vantage, head left and you'll come to a large spiral staircase. Make your way over and start working down. There will be a group of three enemies trying to work their way up it but if you're fast, you can get down the stairs and get an angle first. You want to go down two floors and these enemies will be coming up from that bottom floor. Don't stop on the middle floor because it's going to be hit hard with grenades and you'll die.

The stairs will open up to a balcony of this room. In this large room, be sure to keep your eyes open for exploding canisters because they are everywhere and can really help. Clear as many enemies as you can from the stairs and then move down onto the balcony proper. As you reach the bottom, you should see an enemy on a raised platform. He's the one shooting the grenades so make sure you kill him. If you get pinned down moving across, make sure to use the Stun Command.

As you cross this balcony, watch left on your floor for a few enemies and then down a floor for more. When you reach the end of the balcony, you'll come to more stairs. These stairs are broken and they open up on a section with lots of enemies so you want to make very sure that it's safe to drop down before you do. Check far in the distance for enemies first. From here, there should also be a fair number of explosives you can set off to help you too.
Hop down to the lower level and take cover. Move to the right and you'll see a bridge leading across to the really tall structure in the middle. Go to the corner of the bridge but don't cross it. From here, watch left for enemies across on the far balcony and watch the bridge for enemies trying to advance. You should have no problem taking them down if you are sure to lean out to the right when you aim instead of popping up.

When it's safe, cross the bridge and take cover behind the tall central structure. Around the corner to the left are probably a few more enemies. Kill them and then grab ammo from the nearby crate along the railing. This little round spot should be a great position to clear the lower level. Try and take out as many enemies below as you can, particularly around the turret. Use grenades as well because there's more a little further on.

Head the rest of the way across the bridge to meet up with Lugo and Adams. Follow this balcony and stay right to find the grenade crate by some beat up counters. Make your way over to the spiral staircase. Don't go down just yet, see if you can kill enemies from here on the lower levels. Unfortunately, there are some things that you won't be able to affect from here for gameplay reasons it seems (gas tanks you can't blow up yet for instance).

Since that's the case, head down the stairs now and take cover after you drop off. Far in the distance, you'll see quite a few men and a turret. Try and take out as much as you can while up here. You can try and go down to work your way up but this doesn't work very well so go down until it's safe.

Once you are on the floor, start working your way to the right. You should find some grenades off to that side. Keep going until you come to an escalator that leads downward. Your squad will post up here while you go into the tents behind you. Make your way through but don't shoot the first person you see. It will be an innocent woman. Just behind her will come to men. Kill them instead. Follow the tents further until you come up behind the turret that was shooting at you. Put on a silencer if you have one and take out the enemies on this balcony.

Head over to the balcony and shoot down into the pit. There's quite a few enemies down there and lots of things that explode. Blow everything up and it should kill anybody down there. Hop on the turret and start shooting the glass behind the turrets to the right. Keep shooting them and shooting. Make sure you shoot all of them. Eventually, they will give way and the mission will end.