2009 - Thief was originally announced in 2009, under the name Thief 4 (or Thi4f), and was confirmed to be in development by a small team at Eidos Montreal, under the management of the studio's General Manager, Stephane D'Astous.
2010 - Eidos Montreal expanded in 2010 and a second team were put to work on general multiplayer projects; whether or not Thief was amongst these was never confirmed.
The long delay between release of information led to widespread rumours that the title had been cancelled.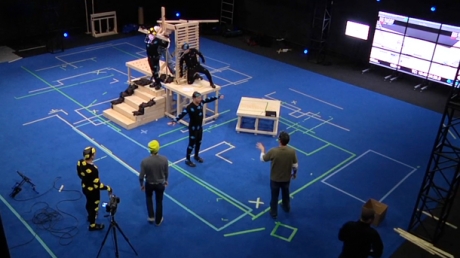 March 2013 - Thief (by this time the number 4 had been dropped) was officially unveiled for the first time. It was announced to be in development for the PC, PlayStation 4 and 'other next generation consoles' (i.e. the Xbox 720), and would be expected to release sometime in 2014.
The team made use of a brand new motion-capture studio in Montreal (view image above) to capture the game's animations and voicework.
The explanation given for the long delay by the team at Eidos was threefold:
They started work on the project as a small team of just roughly 20 staff members and went through a number of staff reoganisations/
As a reboot, the team would be undertaking a much more amibitious project than would otherwise be the case. On the one hand they had to reinvent the series, on the other they had to retain certain crucial elements.
The game went through a number of redesigns especially at the early concept stages of production, even to the extent that early prototypes were borderline strategy games, and one prototype was in third person.