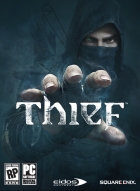 Thief, which was originally set to be known as Thief 4, is a reboot of the Thief franchise and is currently in development by Eidos Montreal and is due to be published by Square Enix sometime in 2014 on the PlayStation 4, Microsoft Windows, and Xbox One.
The series' main character, Garrett, has returned to his home to find that it has fallen under the rule of an iron-fisted baron who preaches prosperity for all but in reality power and wealth seem to be gravitating to an elite few. This, however, leaves Garrett with a great opportunity to ply his trade as a thief. The game will bring back much of the original Thief formula but with a few more modern improvements thrown in.
Thief (2014) Brainwaves
3rd March, 0 replies

It looks like a sequel to the critically-acclaimed stealth action/adventure game Dishonored could be...

2nd February, 0 replies

February is all about two things: championship pigskin and what you should buy your significant other....

15th November, 0 replies

Eidos Montreal's upcoming stealth title Thief will no longer include quick time events, according to...
Share Thief (2014) with others