Trine 2 follows the adventures of three heroes - Amadeus the Wizard, Pontius the Knight, and Zoya the Thief - each of which discovers the Trine and works with the others to once again save the kingdom.
The game is set some time after the events in the original Trine, which ended with the restoration of the kingdom. The first character that the player is introduced to is Amadeus, an elderly wizard who is attempting to learn a fireball spell. A strange light shines itself upon him and, although wary, Amadeus follows it. Eventually the light reveals itself to be the Trine and also reveals Pontius, the knight.
Pontius is rvealed to have been summoned by the Trine after having saved some peasant farms from magic vines. The two are soon united with the third playable character, Zoya the thief, and their adventure begins in earnest when they are attacked by goblins.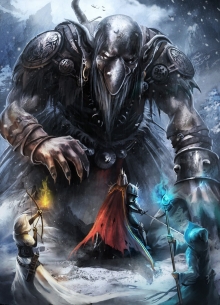 The three then encounter a talking flower, which sets them the task of finding her sister on the other side of the forest. The three commence their quest, under the watchful eye of The Witch. Eventually they enter the Witch's home and, after overcoming a series of traps, finally reach the Witch. She reveals herself to be Princess Rosabel and taks the heroes with cleansing the kingdom of evil by defeating the goblins and their leader, the Goblin King.
Through a series of book entries, looted poems, and various pieces of narrative scattered around the levels, a story of two sisters imbued with magical powers unfolds. The sisters - Rosabel and Isabel- were initially close. But, over the years Rosabel is gradually marginalised and Isabel is ultimately made queen. Jealous and vengeful, Rosabel imprisons her sister in an enchanted tree.
The forest gradually robs Isabel of her magical powers, throwing the kingdom into imbalance and allowing the goblins to take over. Thus it comes to be that Rosabel seeks the help of the three heroes in order to free Isabel and save the kingdom. The heroes, eventually realising that this is the true story, confront Rosabel, who in turn imprisons them.
Quickly making their escape, they return to Rosbael's house and defeat her and the dragon she summons to attack them. This allows Isabel to awaken, who in turn decides to show mercy on her sister and try to save her life.
Finally, Amadeus, Pontius, and Zoya are teleported back to the forest where their adventure began andthe game ends with them sitting by a campfire sharing stories before they finally travel back to their homes.