Bayonetta 2 is a third-person action game and will likely play very similar to its predecessor. The player uses melee and long ranged attacks to accomplish complex combos as well as evasive moves for dodging attacks. Bayonetta's over-the-top signature Torture attacks, Wicked Weaves, and Witch Time all return, as do demon summons for Climax attacks.
General Gameplay
Bayonetta can perform melee attacks and use weapons. She can punch, kick, fire guns and use swords. She can jump and double-jump for extra height and perform her attacks in the air. She can also dash and perform evasive backflips. Some of her dodging abilities also extend to the air as well.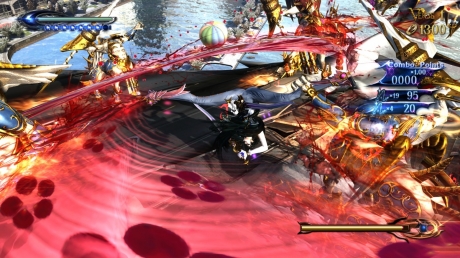 Combo System
The combo system allows players to rack up points by keeping their combo meter going and accomplishing complex combo strings. The best way to do this is to use a variety of punches and kicks on enemies and mix in weapon attacks with melee attacks, while strategically dashing and continuing combos without allowing the combo meter to reset.
Magic Meter
Bayonetta can build up a magic meter which allows her to use special techniques such as Tortures. The Magic Meter can be built up by landing punch combos and shooting enemies as well as taunting an enemy and successfully dodging their attack. The meter will decrease when Bayonetta takes damage.
Ratings System
A rating system awards the player with a variety of medals depending on how well they performed. At the end of a chapter, a score is given depending on the type of medals earned as well as whether or not the player used items or perished.
Combat
Bayonetta 2 will feature 4 differenty types of combat, along with the usual ground combat.
Ground- Traditional combat found in both Bayonetta games. Players can attack enemies and chain off their moves into various and powerful combos uniwue to the weapon currently equipped.
Aerial- Aerial combat is a new segment in Bayonetta. This combat is a linear type that plays very similarly to Kid Icarus: Uprising. Bayonetta can move around on screen and shoot at enemies in her path.
Underwater- Underwater combat is the same as aerial, only it is done under water.
Vehicular- Another new segment in Bayonetta, players will be given a vehicle (either a machine or demon) to fight off hoards of angles and demons. Some are a 3D experience and other are a railshooting experience.
Techniques
Techniques are moves that Bayonetta can purchase. These are some of the following techniques confirmed for Bayonetta 2: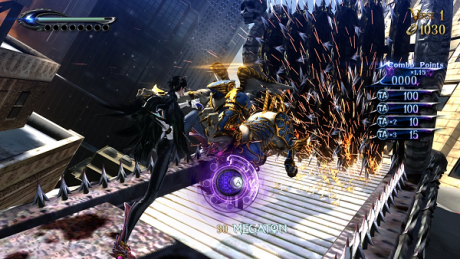 Air Dodge - an evasive move that allows the player to dodge attacks in mid-air.
Stiletto - An offensive move used to dart around and close distance between enemies while causing damage. Stiletto can also be used in the air.
Heel Slide - Similar to Stiletto but faster and usually does more damage. Heel Slide, however, cannot be used in the air.
Witch Twist - Causes Bayonetta to drop to her knees and rotate before shooting into the air while twisting.
Tetsuzanko - An offensive move that knocks an enemy into the air and away from the player. When combined with magic, it allows Bayonetta to instantly perform a Wicked Weave attack.
Witch Time - Most commonly activated by dodging an enemy's attack at the last second, Witch Time slows down enemies giving Bayonetta an advantage during battle. It also allows her to run across the surface of water. Combos will also be worth more points during Witch Time.
Torture Attacks - When Bayonetta's magic meter is full, she can perform a Torture Attack by pressing punch and kick simultaneously when near an enemy. Once activated, a button must be pressed repeatedly or the analogue stick must be rotated for maximum damage. Torture Attacks summon devices such as Guillotines or Iron Maidens.
Wicked Weaves - Allows Bayonetta to use her hair as a conduit and summon Infernal Demons, usually Madama Butterfly, the demoness with whom she has made a pact with.
Umbran Climax - New to Bayonetta 2, Umbran Climax can be activated when the magic meter is full, putting her into Serious Mode. In addition to strengthening Bayonetta's attacks and combos, Umbran Climax allows for Wicked Weaves to be summoned with every attack, as well as powerful Infernal Weaves at the end of combos which fully manifest Infernal Demons for extreme damage.
Dodge Offset- This is a new technique in Bayonetta 2. Dodge Offset allows Bayonetta to continuously cahin her combos even ater dodging. Her combo will not break when you dodge and you can continue to dodge as much as you wish while at the same time completeing combos.
Returning Characters
Jeanne, Bayonetta's rival, will be present in Bayonetta 2, looking to fulfill a support role in the game. Rodin, the weapons dealer from the first game, will also be making a return, although it isn't known what role he will play. It is possible he will simply reprise his role as a vendor to Bayonetta again.
Tag Climax
Tag Climax is a new gameplay mode for Bayonetta 2. This is a strictly online multiplayer mode that has you and someone else face wave after wave of enemies to achieve high scores and even sharpen your skills. Players must work together to survive, but at the same time compete to get the higher score.