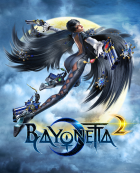 Bayonetta 2 is an action game that is developed by Platinum Games and published by Nintendo, being released exclusively for the Wii U. It is the sequel to the original game, Bayonetta, and is set to come out sometime in 2014.
The game follows the story of Bayonetta, who is still fighting Angels, with the help of Jeanne, her former rival. During one of these battles, Bayonetta summons a demon and it goes wrong, prompting Jeanne to save her. However, this causes Jeanne's souls to get torn away from her body and it is up to Bayonetta to journey to Inferno and get it back.
Bayonetta 2 Brainwaves
14th February, 0 replies

-Little Mac is joining the Super Smash Bros. for Wii U and 3DS cast. The pint-sized hero of the Punch-Out...

7th January, 0 replies

President and CEO of Platinum Games, Tatsuya Minami, has written about how much he feels 2014 will be...

11th October, 0 replies

Without Microsoft or Sony at New York Comic Con this year, Nintendo basically has the show to itself,...
Share Bayonetta 2 with others