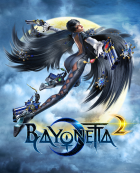 Bayonetta 2 is an action game developed by Platinum Games and published by Nintendo. It was released exclusively for the Wii U in October, 2014, and is a sequel to the original Bayonetta.
The game follows the story of Bayonetta, one of the last Umbra Witchs still in existence, that fights angels for a living. After an immense battle on the surface, Jeanne, Bayonetta's ally, is injured. Her sould is knocked out of her body by the demon dragon Gomorrah. Jeanne is captured before she could return to her body and is dragged down into Inferno. Bayonetta must now fight her way through Inferno, Paradiso, and Earth to retrieve Jeanne's soul, a task that is said to not have any odds in her favor.
Bayonetta 2 Brainwaves
9th June, 1 replies

Platinum Games will be unveiling a new game at E3 during IGN's E3 2015 live show. The show will take...

9th January, 0 replies

Now here is a genre that everyone pays attention to. The Action/Adventure genre blends the allure of...

26th October, 1 replies

Nintendo's Bayonetta 2 is receiving a very unexpected cross-promotion. The family-friendly company is...
Share Bayonetta 2 with others