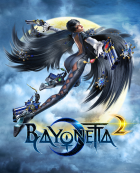 Bayonetta 2 is an action game that is developed by Platinum Games and published by Nintendo, being released exclusively for the Wii U. It is the sequel to the original game, Bayonetta, and is set to come out sometime in 2014.
The game follows the story of Bayonetta, one of the last Umbra Witchs still in existence, that fights angels for a living. After an immense battle on the surface, Jeanne, Bayonetta's ally, is injured. Her sould is knocked out of her body by the demon dragon Gomorrah. Jeanne is captured before she could return to her body and is dragged down into Inferno. Bayonetta must now fight her way through Inferno, Paradiso, and Earth to retrieve Jeanne's soul, a task that is said to not have any odds in her favor.
Bayonetta 2 Brainwaves
24 days ago, 0 replies

During Nintendo's Bayonetta 2 Direct Presentation for Europe, the game's release date of October 24th...

24 days ago, 0 replies

Nintendo's Wii U has finally started to gain some traction in the last two months, mostly thanks to the...

30th June, 0 replies

Prior to the launch of the original Wii, Nintendo's future in the home console space was plagued by uncertainty....
Share Bayonetta 2 with others