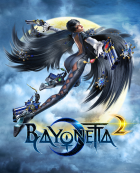 Bayonetta 2 is an action game that is developed by Platinum Games and published by Nintendo, being released exclusively for the Wii U. It is the sequel to the original game, Bayonetta, and is set to come out sometime in 2014.
The game follows the story of Bayonetta, who is still fighting Angels, with the help of Jeanne, her former rival. During one of these battles, Bayonetta summons a demon and it goes wrong, prompting Jeanne to save her. However, this causes Jeanne's souls to get torn away from her body and it is up to Bayonetta to journey to Inferno and get it back.
Bayonetta 2 Brainwaves
30th June, 0 replies

Prior to the launch of the original Wii, Nintendo's future in the home console space was plagued by uncertainty....

26th June, 0 replies

During E3, CVG got a chance to have a one-on-one with Bayonetta 2 director Yusuke Hashimoto and discussed...

27th May, 0 replies

Oh Nintendo, you sure do enjoy not following standard E3 protocol. For the second year in a row, the...
Share Bayonetta 2 with others