Wii Sports - Sports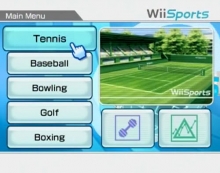 In Wii Sports you play as a Mii in these five sports baseball, bowling, boxing, golf and tennis.
Do you want to earn money creating pages just like this? Gamewise is currently looking for writers, find out more here.
Wii Sports Brainwaves
18th September, 0 replies

During today's Wii Fit U Direct Presentation, Nintendo announced Wii Sports Club, a digital service that...