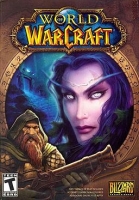 World of Warcraft is a massively multiplayer online role-playing game (MMORPG) developed and published by Blizzard Entertainment. It is the fourth installment in the Warcraft series, and Blizzard's first game in the MMORPG genre.
The game takes place in the world of Azeroth, approximately four years after the events of Warcraft III: The Frozen Throne.
World of Warcraft Brainwaves
10 days ago, 0 replies

Blizzard has started banning players that use certain bots in World of Warcraft. Players who use the...

17 days ago, 0 replies

Activision Blizzard announced in its quarterly earnings report that the number of World of WarCraft subscribers...

18th February, 0 replies

A new feature will be added to World of WarCraft that allows colour blind users to adjust the shades...
Share World of Warcraft with others