Due to the simplicity of a hack and slash, the player need only mash the basic attack to do damage. That being said, to truly master the game, and become an adept master of the combat system, there are a few things that must be taken into account.
Advanced Attacking
Executions
When Death critically wounds a foe sometimes an execution can be performed. If available, identified by the action button (X/A) appearing above the target's head, Death will perform a finisher that can't be interrupted by damage.
Focus
While most of the basic fighting and evading tactics are covered in the beginning section of the game, Focus is not covered in depth. Holding L1/LB, Death will focus on one enemy, basically locking-on, and the target's name and health will appear above its head.
Combo Skills
Although Death's basic attacks and executions can get the job done for most battles, more advanced battles require more advanced tactics. Therefore, in true hack and slash tradition the game has added basic attack combos, such as:
Reaper Form
As Death fights he gathers Reaper Energy. When enough energy is gathered, Death can activate his Reaper Form which acts similar to Dante's Devil Trigger in Devil May Cry, transforming Death into his grim reaper and making him more resilient to attacks and stronger.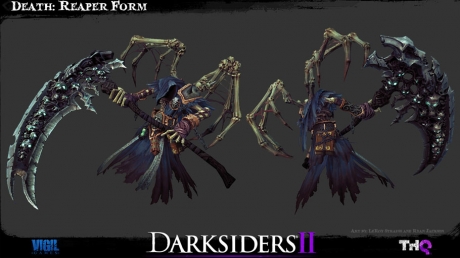 Wrath Skills
Wrath energy is Darksider's mana system. Gained over the course of battles, the energy can be used for special abilities in combat to ease the battles. Available for use at any time, there are two distinct skill trees that you can choose from (depending on your play style).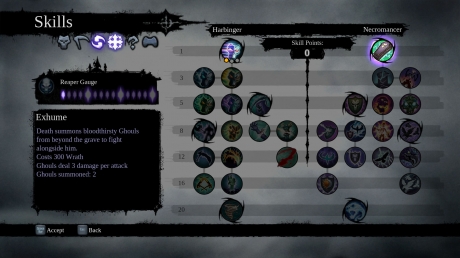 Harbinger
The Harbinger abilities focus mostly on Death's physical strength and abilities, increasing his damage through deadly attacks.
Necromancer
The Necromancer abilities focus mostly on summoning support and Death's physical defense and resistance.
Each time Death levels up, the player receives a skill point that can be used to purchase these new abilities.