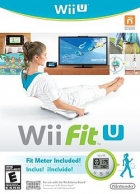 Wii Fit U is a fitness game developed and published by Nintendo, exclusive to the Wii U. The game is a sequel to the best-selling Nintendo fitness game Wii Fit, a series based around exercise and health. It features over a dozen mini-games to help the player get into shape.
An extended demo was released on the eShop, allowing players a month-long trial of the game before the retail version released. The game is backwards compatible with the Wii Fit Balance Board and also takes advantage of the new Wii U Gamepad. Plus, a new Fit Meter helps gamers determine how many calories they've actually burned.
Wii Fit U Brainwaves
19th May, 0 replies

Nintendo has announced that on May 18 it won a patent case concerning the Wii Balance Board in the Seattle...

12th November, 0 replies

It's shaping up to be a day of mini delays. Nintendo of Europe has just announced that the retail version...

31st October, 0 replies

The official Smash Bros. website has been posting new images of Super Smash Bros. for Wii U and Super...
Share Wii Fit U with others