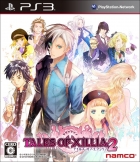 Tales of Xillia 2 is a role-playing game developed by Bandai Namco Games, exclusively for the PlayStation 3. A direct sequel to Tales of Xillia, it is the fourteenth main title in the Tales series. The game uses the new Cross Dual Raid Linear Motion Battle System, making gameplay almost identical to the first game with only minor upgrades.
The game centers around Ludger Kresnik, a young man and a skilled chef who lives in Trigleph city in Elympios with his brother Julius and their cat Rollo. He strives to follow in his brother's footsteps and work as an agent in the prestigious Spirius Corporation, a large scale and illustrious company that develops technology for every field imaginable. One day, through a chance encounter, he meets Elle Marta: a young girl travelling alone attempting to reunite with her father at the mythic "Land of Canaan" and ends up accompanying her. His choice to accompany her will send the two on a journey that will change the fate of the two worlds forever.
Tales of Xillia 2 Brainwaves
20th June, 1 replies

Tales of Xillia 2 is a rare direct sequel for the Tales series that starts one year after the final events...

22nd April, 0 replies

After quite a few rumors about Tales of Hearts R for PSVita getting localized to the West Namco Bandai...

14th January, 1 replies

2013 is behind us and it's the perfect time to look ahead to the 2014's expected games. But rather than...
Share Tales of Xillia 2 with others