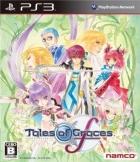 Tales of Graces f is a role-playing game developed by Namco Tales Studio and published worldwide by Namco Bandai Games for the PlayStation 3.
Tales of Graces f is an enhanced version of the Nintendo Wii game Tales of Graces. The symbol "F" in the title refers to the "future", as the game features exclusive content that takes place in the near future after the end of the main story.
Tales of Graces f Brainwaves
20th June, 1 replies

Tales of Xillia 2 is a rare direct sequel for the Tales series that starts one year after the final events...

4th June, 0 replies

Sony has revealed a new Flash Sale, which is running right now on the PlayStation Network. In this particular...

17th December, 0 replies

Tales of Zestiria could use a similar battle system to Tales of Graces f according to Explosion. Apparently,...
Share Tales of Graces f with others