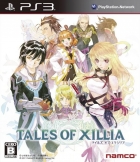 Tales of Xillia is the 13th title in the Tales franchise and the second to be ported from Japan to the Playstation 3 (as Tales of Vesperia was Xbox 360 exclusive). Developed by Namco Tales Studio and published by Namco Bandai, it will be the first Tales game exclusively released for the Playstation 3 and the last to be developed by Namco Tales Studio before it was dissolved into Namco Bandai Games in November 2011.
Tales of Xillia Brainwaves
1 day ago, 0 replies

After quite a few rumors about Tales of Hearts R for PSVita getting localized to the West Namco Bandai...

14th January, 0 replies

2013 is behind us and it's the perfect time to look ahead to the 2014's expected games. But rather than...

4th January, 0 replies

The Role Playing Game is one of gaming's staple genres. It existed before video games, with the tabletop...
Share Tales of Xillia with others