Mario Kart 8 is the eighth entry in the Mario Kart series and the first to be on an 8th-generation main console. Following the gameplay of the rest of the Mario Kart series, Mario Kart 8 supports up to four players racing against CPU players to pass the finish line first on a variety of courses.
Basic Gameplay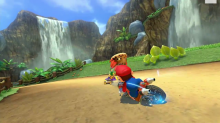 Mario Kart 8 features 12 characters racing against each other in a series of courses, with the goal being to finish in first place. One of the defining aspects of the Mario Kart series are the Item Boxes containing a variety of weapons, which can be used against the opponents.
New to the series are anti-gravity sections. These are sections which make the racers drive on vertical walls or upside-down. When driving in anti-gravity sections, racers will be more susceptible to being bumped by other drivers.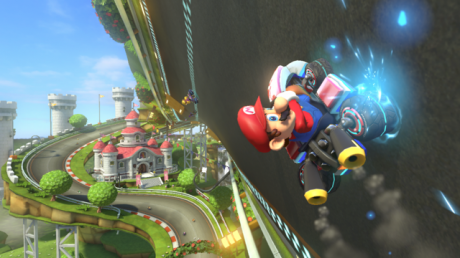 Mario Kart 8 has been shown being played with the Wii Remote & Nunchuk, the Wii Wheel from Mario Kart Wii, the Wii U Pro Controller as well as with the Wii U Gamepad. This offers a variety of control schemes for players to choose from when playing.
Courses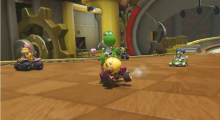 There are two variations of stages: Nitro Courses and Retro Courses.
While Nitro Courses are original courses unique to Mario Kart 8, Retro Courses are remastered stages taken from previous iterations in the Mario Kart series, but remade for HD. Retro Courses will have sections altered from their original versions in order to incorporate the new gameplay features, such as the gliding, underwater, and anti-gravity sections.
Items & Weapons
Items return in Mario Kart 8 and like in previous iterations, items are acquired by driving through floating boxes scattered throughout the track. The boxes will break when driven through, granting an item or weapon, and respawn again after a few seconds.
These items can be used for a variety of effects in order to increase the player's chances of doing well in their race, such as increasing the player's speed temporarily, launching an obstacle at an opponent, blinding or otherwise hindering opponents ability to drive, or performing some other feat.
Vehicle Customization
Mario Kart 7 introduced vehicle customization, which is continued in Mario Kart 8. In addition to choosing a kart or bike, the player can choose many other features, such as the type of wheel. Also returning from Mario Kart 7 are gliding and underwater sections, which use customizable gliders.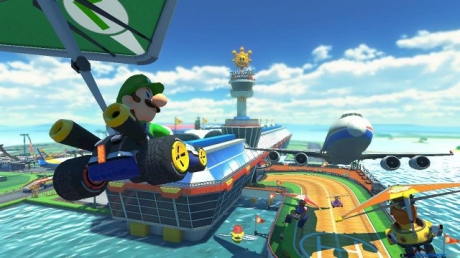 Miiverse Integration
Mario Kart 8 will feature Mario Kart TV, an option new to the series. After their races, players will be able to upload videos of their entire race or race highlights to the Miiverse, where they can be shared with friends. After uploading, players can comment on their own or others videos .