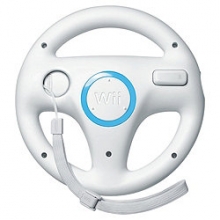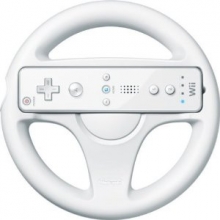 The Wii Wheel accessory comes packaged with Mario Kart Wii and Sonic & Sega All-Stars Racing. Excitebots: Trick Racing is also optionally packaged with a Wii Wheel, and F1 2009 comes with a modified version of the Wii wheel, shaped like the wheel used in Formula One cars.
The wheel itself adds no functionality beyond ergonomics.
The Wii Wheel has a hole on the right side in the back to allow use of the wrist strap while the Wii Remote is attached to the accessory, and to make removing the remote from the wheel easier.
The user is also able to use the pointing function of the Wii Remote while it is in the peripheral through a hole on the left.