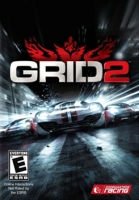 GRID 2 (also known as Race Driver: GRID 2) is a racing game developed by Codemasters and released on Microsoft Windows, PlayStation 3 and Xbox 360. It is the ninth game in the TOCA series, adding the new 'TrueFeel' handling system and 'LiveRoutes' track system and many real locations from across the world.
GRID 2 Brainwaves
17th January, 0 replies

2013 has been a shocking year for humanity, with natural disasters piled upon the horrific actions of...

2nd January, 0 replies

This year saw the release of sequels for some of the biggest and most well-received racing franchises...

7th December, 0 replies

After deciding 4 days of rest is enough, Lord Gaben has given us another sale, but be quick since this...