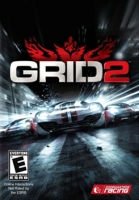 GRID 2 is the latest entry in the TOCA racing game franchise, and direct sequel to 2008's critically acclaimed Race Driver: GRID. It was developed and published by Codemasters for Microsoft Windows, PlayStation 3 and Xbox 360 on May 28, 2013 in North America and three days later on May 31, 2013 in Europe.
GRID 2 debuts two new concepts developed internally by Codemasters - the 'TrueFeel' handling system and 'LiveRoutes' track system. It also features many real locations from across the world (including some of the most popular cities and real-world racing circuits) and includes cars from four decades of racing.
GRID 2 Brainwaves
4 days ago, 0 replies

After deciding 4 days of rest is enough, Lord Gaben has given us another sale, but be quick since this...

3rd May, 2 replies

It's the shortest month of the year (to spell) and it brings flowers after those April showers. That's...