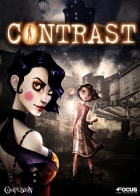 Contrast is a puzzle platform game developed by Compulsion Games for Microsoft Windows, PlayStation 3, PlayStation 4, and Xbox 360. The game uses light and dark as a puzzle mechanic, having the player shift betwwen the real world and the world of shadows to progress and explore.
Set in a dreamlike, vaudevillian world of the 1920s, the game follows the story of Didi and her imaginary friend Dawn. Didi is an independent, adventure-loving, spirited little girl who lives with her mother, Kat. Her father, Johnny, left Didi and Kat some time ago, but Didi yearns for her father's return every day and compensates for his absence through Dawn.
Contrast Brainwaves
9th February, 0 replies

Compulsion Games, the developer of puzzle platformer Contrast, is teasing a new title: "What we can...

30th October, 2 replies

Sony has unleashed a mammoth sized FAQ page on all things PlayStation 4, dubbed "PS4: The Ultimate FAQ",...

16th October, 0 replies

While the PlayStation 4's launch is still a month away, Americans will have a chance to try out the new...
Share Contrast with others