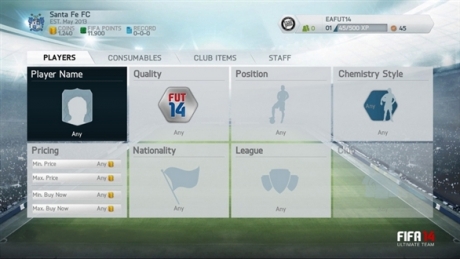 FIFA Ultimate Team (FUT) is by far the most played game mode in FIFA, according to EA Sports, with over 3,400,000 matches played every day. This year, FUT will reach new heights with all new features such as FUT Chemistry Styles, squad customization, and much more.
Deeper Chemistry System
In FUT 14, you can customize your squad to play any kind of football you want them to play. The FUT Chemistry system will make each player and team unique.
There are a variety of different Chemistry Styles for all players; goaltenders, defenders, mid-fielders, and attackers. Each position has its dedicated Chemistry to ensure that each individual play stands out during every game you play.
Very similar to reality of football, every choice you make in FUT will influence your team negatively or positively. The goal of FUT is to make sure that your team has chemistry, so it's better to have 2 players that are rated 70 and have 89% chemistry than having 2 players that are rated 80+ that have 20% chemistry. Chemistry will have a big impact on every game you play. This lets you realise the full potential of your team.
Expanded Season Mode
Compete offline or online in season mode, featuring 10 divisions with promotion, relegation, coveted titles and an oppourtunity to qualify your team for tournaments. The new Season stats will track your results, so you will be more rewarded than ever.
New Team Customization Options
For the first time ever in FUT, you'll have access to a lot of more customization features including the ability to change your squad's kit number and set-piece takers directly from the squad screen.
Compare
Now, if you are looking into buying a new player, you can compare it to all of your current players and see if he's really worth paying for.