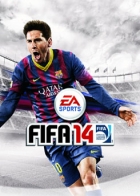 FIFA 14 is a soccer simulation game developed by EA Sports for Android, iOS, Nintendo 3DS, PlayStation 3, PlayStation 4, PlayStation Portable, PlayStation Vita, Wii, Microsoft Windows, Xbox 360 and Xbox One.
The game is highly related to EA's NHL 14, sharing similar game modes and features. Unlike NHL 14, however, FIFA 14 will be available on next generation consoles and features a number of game play refinements.
FIFA 14 Brainwaves
30th October, 2 replies

Sony has unleashed a mammoth sized FAQ page on all things PlayStation 4, dubbed "PS4: The Ultimate FAQ",...

23rd October, 0 replies

Pokemon X & Y moved another 473,151 units in Japan, and was once again the reigning champion of the Media...

16th October, 0 replies

While the PlayStation 4's launch is still a month away, Americans will have a chance to try out the new...
Share FIFA 14 with others