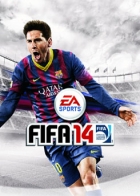 FIFA 14 is a soccer simulation game developed by EA Sports for Android, iOS, Nintendo 3DS, PlayStation 3, PlayStation 4, PlayStation Portable, PlayStation Vita, Wii, Microsoft Windows, Xbox 360 and Xbox One.
The game is highly related to EA's NHL 14, sharing similar game modes and features. Unlike NHL 14, however, FIFA 14 will be available on next generation consoles and features a number of game play refinements.
FIFA 14 Brainwaves
31st March, 0 replies

Are you a football fan in the UK? Did you spend ~£3,000 for a season pass for your failing team? Well...
Share FIFA 14 with others