The gameplay is the hack and slash type with a similar style to Dark Souls. This game isn't an open world RPG like Dark Souls, but rather is divided into acts. Although the game is mostly linear, there are multiple quests you can fulfill during the main acts. There are also many save points within the game that can help prevent the player from losing too much progress.
General Gameplay
This game mainly focuses on the combat aspect. You will be playing as one, pre-made character: Harkyn. There are multiple classes that you can choose for this main character. Each class determines the combat style of your main character as well as his attributes, equipment, and extra items he will initially obtain.
Classes
There are nine different classes that can be chosen in the beginning of the game: warrior, rogue, cleric, brawler, outlaw, ranger, raider, executioner, and paladin. The way the player can choose what class Harkyn will be throughout the game is by choosing what type of magic he will be using for combat in the beginning. You will then be able to proceed on choosing from the 9 different classes.
Combat
Your character will be up against difficult bosses and other strong opponents. Both you and your enemies will have specific stats that can help determine who will come out victorious in your battles. There are stats for physical attacks and defenses as well as various stats for magical and elemental attacks and defenses.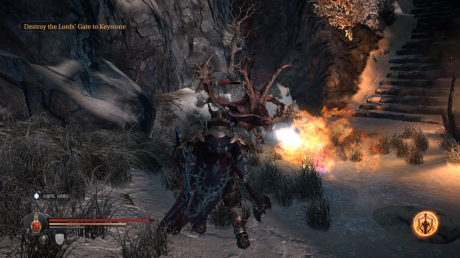 Based on the class and magic you have selected in the beginning of the game, your character will initially obtain a weapon, shield, and armor specific to that choice. With the right combination of attributes, equipment, and magic, you can come up with various strategies on how to overcome your opponents. Each enemy has a specific style of fighting, and they also have weaknesses that you must be able to find.
Experience
As Harkyn defeats enemies, he will gain experience that he can use at save points to level up in one of two categories. However, there's a twist that enables Harkyn to earn more experience if he does not rest at save points or die. This is in the form of a multiplier that appears whenever he kills enemies.
He will lose this multiplier if he dies or if he chooses to rest at a save point. Another feature is that if Harkyn dies, then he will lose all of the experience he has acquired. This drops at a location close to his death and he can pick them back up to regain them all, similar to the souls mechanic in the Dark Souls games. While the experience is on the ground, it can also be used as as health regeneration.
Exploration
As linear as the game may see, there is still a chance to do some individual exploration. There are many hidden secret areas, treasure chests, and in-game lore in the form of scrolls within the game. There are many treasure chests located throughout the game. Some are out in the open and some are a little tougher to get or find.
As for the scrolls, they must be found based on the current presentation of the game. For example, "The Sick" lore scroll can only be found during the Infested presentation and "Sixth Night" can only be found in the Night Watch presentation.